EDGE Virtual HealthyCARETM 90 Day Program Dates
Tuesday, August 25th – November 17th Virtual Lecture – 6-7pm
Tuesday, September 22nd – December 15th Virtual Lecture – 6-7pm
Do you want to optimize your wellness and feel your best? Meet one on one with our Registered Dietitian via tele nutrition to review your goals, create meal plans, provide nutrition education, manage chronic illness, focus on weight loss, and more.
This service is often fully covered by your health insurance plan.
Virtual HealthyCARETM 90 Day Program
Build a Life FREE of Diets, Fatigue, & Stress!
The EDGE is the founding member of the Genavix Wellness Network in Vermont and the only club in the state offering the revolutionaryHealthyCARE™ 90 Day Program. It is not a diet or workout plan, but a comprehensive wellness program designed to enrich your life and help you become healthier. Guided by a Nationally Certified Health Coach, over the course of 13 weeks, you will learn the fundamental aspects of fitness, nutrition, stress management and behavior modification.  
What Is Included?                   
13 weekly one-hour group sessions led by your Certified Health Coach
3 Individual Tele Nutrition sessions with a Registered Dietitian to customize your nutrition plan
Exercise guidance from your Health Coach
Weekly whole foods meal plans and recipes
Accountability outside of the group sessions journaling your fitness, nutrition, and stress with your Health Coach on our secured portal
Access to 300+ pages of evidenced-based curriculum to reference long after the program is completed
Customizable for Employee Wellness
This program may be offered virtually to employees and family members on the health plan.
Employer groups report improved employee moral, productivity, health outcomes, and more!
Much of the cost may be covered by INSURANCE!
If you are interested in enrolling in our classes, please contact: Genavix@edgevt.com
Food and Mood Program
Start date for the program is September 22nd, 6-7pm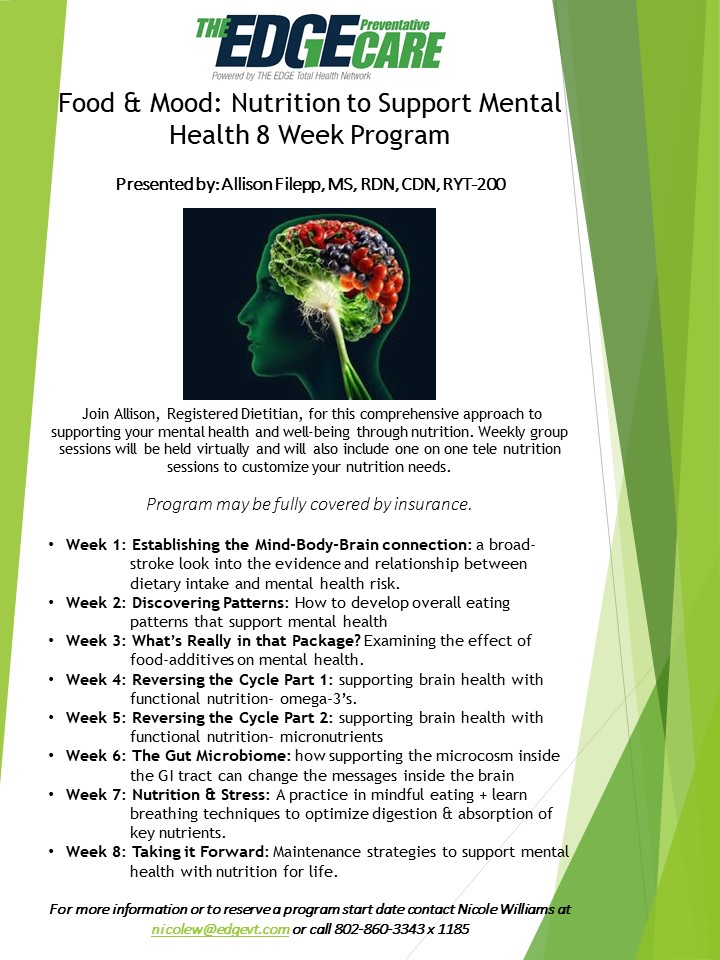 Would you like to see if your insurance may cover some of our nutritional services?
Complete the information below and one of our specialists will help you understand what your insurance plan covers: