Edge Nutrition FREE Recipe Resource
Enjoy!
Berry Good Smoothie
Smoothies can be a great option to pack lots of nutrients, vitamins, minerals, antioxidants, and fiber both for you and the kiddos!
Thanks to Nicole, one of our Health Coaches at The Edge Preventative Care for sharing the ingredients she throws in her smoothie that her two girls love as well!
1-1/2 cups frozen fruit (berries is in this one)
1 cup spinach or kale (can be frozen or fresh)
1 banana (adds the sweetness that the kids like)
1/2 avocado
1/2 cup plain Greek yogurt
1 cup coconut water
Blend together and enjoy!
This recipe makes multiple servings!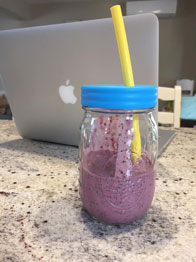 Chilly Day Chili
Brrr… it's cold out there! What's better than a little comfort food? Try our Quick Pantry Vegetable Chili, courtesy of Gretchen Zehner, EDGE Registered Dietitian!
Ingredients:
– 1 can black beans
– 1 can pinto beans
– 1 can diced tomatoes
– 1 Tbsp tomato paste
– 1 bag frozen mixed vegetables
– 2 cups vegetable broth
– 2 tablespoons chili powder
– 2 teaspoons ground cumin
– 1 1/2 teaspoons smoked paprika (optional)
– Salt & pepper to taste
*substitute any beans you have, or any fresh vegetables you need to use.
Combine all ingredients and simmer for 30 minutes!
Top with what you have (or what you need to use):
– shredded cheese
– avocado
– lime wedge
– cilantro
Enjoy!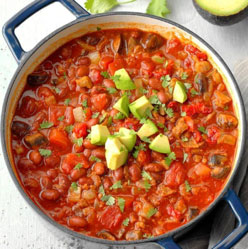 Some words of wisdom from The Edge Preventative Care's Gretchen Zehner, RD:
"While at home and unable to make frequent trips to the grocery store, it is important to use whatever foods we have on hand. Dig through the cabinets, drawers, pantries, and use the random packaged foods or items we once purchased. For many people, this may elicit feelings of guilt or frustration as these may not be foods we would choose as our first choice under other circumstances. These foods are absolutely okay to eat and it's important to use what we have. Get creative and take some inspiration from the show CHOPPED to try to create something new from these items – make your own fun!"
"Whatever-You-Have Fried Rice!"
Ingredients:
– 1 packet instant brown rice or cooked brown rice
– 1/2 large yellow onion, diced
– 1 package frozen mixed vegetables (peas, corn, carrots, green beans, edamame)
– 1 egg (optional)
– 1/3 cup soy sauce or liquid aminos
– 1 Tbsp vegetable or olive oil
– 1 tsp sesame oil (optional)
– 1 green onion, sliced (optional)
– 1 clove garlic, minced
– Pinch of dried red chili pepper (optional)
Instructions:
1. Cook rice according to package instructions
2. Heat vegetable/cooking oil in a large frying pan or Dutch oven over medium high heat and add red chili to heating oil.
3. Add onion to pan and cook until translucent (approx. 5 minutes)
4. Add frozen vegetables and saute until tender (approx. 5 minutes). If using egg, add once vegetables are cooked.
5. Add soy sauce, sesame oil, and garlic to the pan
6. Add in rice and combine rice, vegetables, egg cooking until all is coated
7. Top with green onion and serve!
Ingredients:
– 1 1/2 cups warm water
– 1 tablespoon honey
– 1 1/2 teaspoons salt
– 1 tablespoon active dry yeast
– 3.5-4.5 cups flour
Directions:
1. Combine the water, honey, salt, and yeast in a glass bowl. Let sit for 5-10 minutes until there is some bubbling and foam on the top.
2. Next, add a bunch of flour. Keep kneading until it is no longer sticky. You want your dough to be sticking to itself, but not your fingers. Keep adding flour until that happens.
3. Form the dough into a loaf shape. Cover with a towel and let sit on the counter for 20 minutes (or on top of the preheating stove). Set your oven to 400 degrees.
4. After 20 minutes, cut slits in the top of the dough and bake for 16-20 minutes.
Tips:
– This recipe can be modified to add even more nutrients to it! You can add cinnamon, oregano, garlic, raisins, cranberries, sunflower seeds, swap our whole flour for whole wheat flour, etc. Whatever you prefer!
– There are minimal ingredients and NO PRESERVATIVES in this bread so it is likely to last for a few days! You can cut up slices and freeze the loaf for later, or store it in a paper bag on the counter top.
Enjoy!