Parisi Coaching Staff
Parisi Speed School at The EDGE is staffed by some of the best Performance Coaches in New England. On top of successfully completing Parisi's own training certification, each Performance Coach has a unique background in Strength & Conditioning, Sports Medicine and Rehabilitation, Sport-Specific Training, and Coaching Commutation.
Jordynne Ales
Program Director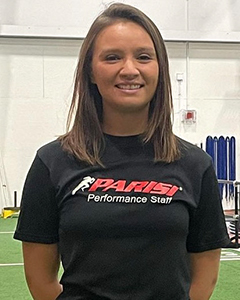 Jordynne Ales started as the Parisi Speed School Director at The EDGE in September, 2021. Jordynne completed a Bachelor's and Master's degree in Fitness and Wellness Leadership at Plattsburgh State University. She then transitioned into the role of Assistant Volleyball Coach/Fitness Center Manager and became an ACSM Certified Personal Trainer and NSCA Strength and Conditioning Specialist. Jordynne's coaching/training experience varies from children, teens, collegiate athletes, and adults. She continues to share her passion for fitness and wellness through Parisi Speed School at The EDGE.
Joe Grunvald
Performance Coach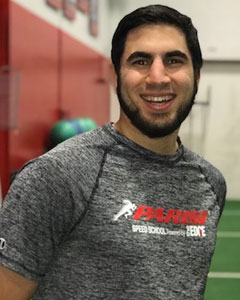 Joey was born in Colchester, Vermont and graduated from High Point University with a BA in Nonprofit Management and Leadership and a Minor in Entrepreneurship. He became a performance coach at Parisi because he has been active all his life, and loves sports and the outdoors and he wants both kids and adults to feel the amazing sensation when completing an intense workout or crossing the finish line of a race just as he does.
His goal is to make a positive impact in each and every kid and adult that he trains by directing them on the path to smart and healthy choices that develop into lifestyles.
Training others combines his two main passions,of helping people and athletics. He is currently certified through the Aerobics and Fitness Association of America along with being Lifeguard/First Aid/CPR/AED certified. He takes particular interest in training distance runners, golfers, and hockey players as he participated in both throughout high school and college. In his free time he likes to play hockey, go to the gym, go golfing, play pool, and spend time with friends and family.
Kyle Rainville
Performance Coach
Kyle graduated from Castleton University with a Bachelor's Degree in Exercise Science. While at school, Kyle worked in a wide range of classes during his studies at Castleton; everything from anatomy and physiology to nutrition and strength training. He was also a member of the Varsity Cross Country team and continues to include distance running with his strength and sprint workouts.  Kyle completed a marathon recently, and is thinking about competing in another soon!  Along with his Bachelor's Degree in Exercise Science, Kyle is a certified Personal Trainer through the Aerobics and Fitness Association of America (AFAA).  He is now a Personal Trainer at The Edge in Williston as well as a Performance Coach for the Parisi Speed School.
Kyle loves to work with individuals of all ages, creating healthy habits and accomplishing goals with children and adults alike.  His specialties include strength and form training for runners, working with seniors, strength and movement mechanics for children, and overall fitness & lifestyle changes for individuals of all ages!