Now Serving 3 Locations at The EDGE
From initial consultations to nutritional counseling, The EDGE's registered dietitians can help play a key role in your overall wellness solution.
EDGE Fitness at South Burlington
With Jamie Sheahan, MS, RD, Director of Nutrition at The EDGE
For more information contact jamierd@edgevt.com.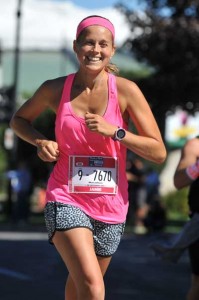 Jamie graduated summa cum laude in 2011 with a Bachelor of Science degree in dietetics and then went on to complete her master's degree in dietetics in 2013. Jamie was born and raised in South Burlington where she attended South Burlington High School. During her high school career she received 13 varsity letters in field hockey, ice hockey, tennis and golf. She also competed in field hockey and squash at the varsity level at Connecticut College. Now an avid runner, Jamie has completed nine marathons and dozens of half-marathons. Her lifelong passion for athletics and her experience as a Registered Dietitian provide Jamie
with a unique approach to nutrition counseling and personal training and the ability to assist clients in achieving optimal health.
EDGE Fitness at Williston and Essex
Lisa Bunn, RD, CSCS, Director of Nutrition – The EDGE, Williston and Essex
For more information contact LisaB@edgevt.com.
As a 3-sport varsity athlete in high school, Lisa turned to her track and field coach for guidance on how to get an edge over the competition. The answer was simple yet profound: nutrition. After a stand out season, Lisa was recruited to join the varsity track and field team at the University of Vermont and dedicated her studies to the field of nutrition. Lisa earned her spot on the team as a hammer thrower and 4 years later found herself in the top position, placing 8th in the conference. Lisa graduated from the University of Vermont in 2012 with a Bachelor's degree in Dietetics, Nutrition and Food Science as well as a Certified Strength and Condition Specialist (CSCS) certification. Lisa became a Speed Coach for the Parisi Speed School at the Edge in Williston, spending the next 2 years empowering children through ground speed movement and general nutrition advice. In the summer of 2014, Lisa began her dietetic internship program at Indiana University, working with doctors and dietitians at the University Hospital for over 1,200 supervised hours. During her internship, Lisa won a state wide case study competition and did a capstone rotation for 5 weeks with the surgical and transplant teams, preparing patients for the stress of surgery. In 2015, Lisa graduated from her internship program and passed her Registered Dietitian (RD) licensing exam. Upon return from Indiana, Lisa spent 3 months in Western Africa working at a malnutrition and vaccination clinic for children of refugees. Lisa returned to the Edge eager to help those who want to lose weight, improve their health or athletic performance, and increase their overall sense of wellness!
| | |
| --- | --- |
| Initial Consulations | $159* |
| Follow-Up | $109 |
*Most insurance plans cover 3 visits per year with a Registered Dietician.
WEIGHT LOSS, MUSCLE BUILDING, DIABETES, WHOLE FOOD BASED PLANS, ENDURANCE ATHLETES, PAIN & INFLAMMATION, DIGESTIVE HEALTH & AGING WELL.
Contact JamieRD@edgevt.com for South Burlington or LisaB@edgevt.com for Williston and Essex.
"My work with Jamie Sheahan and her nutrition knowledge aimed to reduce "hitting the wall" during the last leg of long triathlon competitions. She adjusted when I ate and what I ate. The nutritional changes implemented by Jamie nearly eliminated fatigue and impressively decreased recovery time so I could get back to training sooner. I was thrilled when Jamie and her attention to detail helped me beyond my expectations.
What I appreciated most about working with Jamie Sheahan was her ability to cut through the futility of bars, powders and gels. She kept me happy, and delivered the expected results with pure clean food."
"I went to see Jamie when I got back blood work results that needed attention. In three sessions, with her professional expertise she examined my diet and lifestyle, adjusted what I ate and when, and within two months there was a noticeable change in all the areas that needed to be addressed. Everyone can benefit from working with her."
I first went to Lisa because I had lost a lot of weight and was complaining that food didn't taste appetizing any more. She immediately pinpointed a mineral deficiency, and suggested a daily supplement. In addition, she examined my diet and made recommendations as to what to eat and when, all the while keeping in mind food sensitivities. Within a few months, not only has my weight stabilized, but I now enjoy eating again.