The goal of our After School program is to offer a variety of sport-oriented activities that teach new skills and allow children to have fun. The program runs from 2:30- 6:00 pm. We provide a non-competitive, encouraging atmosphere that will introduce children to sports and games. All activities are geared to motivate and build self-esteem, within a child-friendly environment. Learn more.

Our popular Kids & Fitness program provides academic skill building combined with our unique blend extra curricular activities that range from tennis, to our climbing wall, to swim instruction and so much more. Kids not only accumulate knowledge to make the transition to school much easier, but they get exercise each day in both indoor and outdoor play areas. Children in the program range in ages from six weeks old to 12 years old. Learn More!

In addition to Kids & Fitness and our After School programs, we also offer Camp EDGE which gives your child a safe, productive place to spend his or her summer vacation or other school vacations. Camp EDGE is a place of innovation, fun and fitness for children ages 5-12 years. This program is a state licensed day camp that offers a variety of activities including sports, craft projects, field trips and more! The campers will have an active summer playing and learning with their friends! Learn more.
And for the busy parent who wants to work out drop in childcare services are available at all our sites!  Our Playspace program allows you to work out for up to two hours a day at any of our facilities! All of our caregivers are CPR & AED Certified! We are a nut free facility and take children ages 2 months and up. We have hours available from morning through evening. Learn more.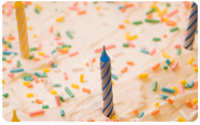 Looking for the perfect place to have your child's birthday party? We offer 4 great packages that will make your child's birthday both fun and memorable. Not a member at The EDGE? Our birthday packages are available to non-members as well at a special rate. Choose from our Birthday Bash, Games & a Dip, Ala Ka Zam and Cliff Hanger. Click to learn more!