Pickleball FAQ
Address: 75 Eastwood Drive, South Burlington, VT 05403
Contact: pickleball@edgevt.com
Membership: info@edgevt.com
Facility Hours:
7 Days a Week
Mon – Fri 6:00 AM – 8:30 PM
Sat–Sun 7:30AM–5:00PM
Court Reservations
7 days a week in 1 and 1.5 hour blocks
Time frames:
Early Morning – 6:00am – 8:30am
Mid–Day – 11:00am – 3:00pm
Early Evening – 3:00pm – 6:00pm
Evening – 6:00 PM – 8:30 PM
Pickleball LAYOUT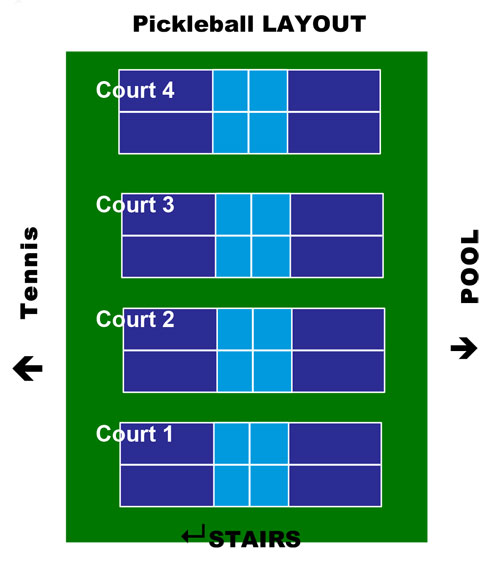 All Program Categories/Offerings
(Start JAN 2020)
Reservations
YES! Reservations are available 7 days a week in 1 and 1.5 hour blocks
Leagues
All levels – Beginners, Intermediate, Advanced Players
Opportunity to have fun and compete, social and competitive!
Open Play
Organized by playing ability, opportunity to play with others, meet new people!
Skill & Drill
Improve your game through fun, high-energy instruction, clinics and drop in's!
Lessons
Come alone, bring a friend, and improve your game, one on one!
Tournaments
YES! We will have these too! Coming up Spring 2020
Social Events
Fun, social opportunities to meet people play round robins and games!
What can I expect?
Opportunities to play, learn, improve, compete, and have fun 7 days a week!
Frequently asked questions:
What is Pickleball?
The fastest growing sport in America! Popular for being easy to learn, fun, social and played by all ages and abilities.
Where can I play Pickleball at The EDGE?
75 Eastwood Drive, South Burlington
What if I don't have a Paddle?
Paddles will be available to borrow at the front desk!
In house retail sales are coming in 2020!
When can I play Pickleball – I'm so EXCITED!!
Programming will begin in JAN of 2020
Detailed info and signs ups available Mid- Dec. Questions?- pickleball@edgevt.com
7 Days a week, morning, afternoon and evening! 

Who do I contact for more information?
General Info, Leagues, Programming contact: pickleball@edgevt.com
Membership Information contact: info@edgevt.com
How many courts will you have?
FOUR, premiere courts, dedicated ONLY to Pickleball!
Are you taking away any Tennis Courts?
NO way! The three tennis courts will remain. The pickleball facility will not interfere with tennis. We are just neighbors ☺!
Are you taping down pickleball lines on the gym floor?
NO way! This is a premiere facility, everything is new and permanent lines are a must!
What do you mean by a premier facility?
NEW SURFACED COURTS, LED Lights, New paint (THE WORKS!)
Similar to the tennis facility, no other sport will be played on these courts, just Pickleball!
I've never played before – Can I play?
YES! We offer LEARN to play and beginner sessions
Can my kid's play!
YES! Reserve a court and play with your family and join us for a family clinic on the weekends!
What ages play pickleball?
As soon as you can hold a paddle to over 90 years old!! (Yes that's right!!)
Do I have to be rated?
NOPE! Our certified instructors will place you with groups of your ability!
Who are the Pickleball instructors?
USAPA Certified Pickleball Instructors with high level tennis and pickleball backgrounds
I am a competitive player will you offer advanced Programming?
YES! Join an Advanced Skill & Drill session and sign up for a LEAGUE.