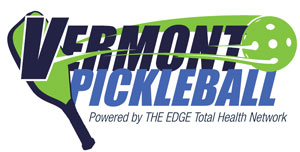 Pickleball Contact: 802-860-3343 ext 4.
For Pickleball Membership Information: info@edgevt.com
Pickleball Memberships are not currently being sold – to be added to the waitlist please email info@edgevt.com with your contact information.
Welcome to Vermont Pickleball, Powered by THE EDGE!
The EDGE is excited to announce its plan to provide the first dedicated indoor Pickleball facility in Vermont. The courts will open at The EDGE on Eastwood Drive, South Burlington, with special membership options with programming and league play starting in January of 2020.
Pickleball Facility
The facility will feature four state-of-the-art pickleball courts with a three-color court combination matching colors used at the US Open Tennis Championships in Flushing Meadows, New York and the Indian Wells Tennis Facility in Palm Springs, California.
What is Pickleball?
Pickleball is the fastest growing sport in the United States. The sport combines elements of tennis and badminton. This sport has grown in popularity because of its affordable equipment, smaller courts and simple rules. Pickleball has become a national phenomenon because it attracts players of all ages, abilities and activity levels. The sport has developed a passionate following due to its friendly, social, nature and its multi-generational appeal. It is easy for beginners to learn the basic rules in a single session and the sport can develop into a fast –paced, competitive game for more experienced players.
Pickleball at The EDGE will offer a comprehensive program serving the needs and "growing the game" for new, beginner, experienced and competitive players of all ages. Programs will be offered to all ages, all levels in formats of social and competitive leagues with an emphasis on having fun and building your pickleball community!
For More Information
Programming/General Pickleball Information: Pickleball@edgevt.com