Group Fitness at The EDGE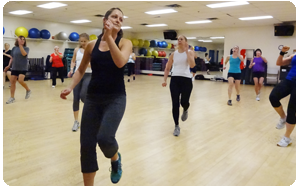 We are committed to offering the best programs with highly qualified, motivating instructors who are committed to the health and well-being of mind, body and spirit of our members in a welcoming, non-competitive, positive, and empowering atmosphere. With 5 locations and approximately 200 classes per week we have something for everyone. Offerings include Golden EDGE classes specifically for our active senior members; indoor cycling; yoga; step; Les Mills and Zumba.
We are the only club in the area to offer a variety of Les Mills classes. These classes from Les Mills combine fresh moves with the latest music for safe, fun highly addictive classes that will motivate and inspire you!
Please check our current schedule for dates, times and locations of all our classes. Whether you are new to group fitness or have been a participant for years, you will find classes that fit your schedule and your needs.
Les Mills: Bodystep
Les Mills Bodystep is the energizing step workout that makes you feel liberated and alive. Using a height-adjustable step and simple movements on, over and around the step you get huge motivation from sing-a-long music and approachable instructors.
55 minutes
Moderate to High Intensity
Average 620 Calorie Burn!
Improves Heart & Lung Fitness, agility and coordination, and increases strength and endurance
Les Mills: GRIT
LES MILLS GRIT™ SERIES will push you to your max, and beyond. Get the up close and personal attention of small group or team training. With your coach right down on the floor with you, motivating you and the team, you won't believe how hard you can work out. Best of all, get the specific fitness results you're looking for!
Three unique programs offering fitness results, fast (strength, plyo and cardio).
30 minutes of intense challenge to set training routines.
Explosive music to send energy levels through the roof.
Highly-charged certified trainers giving you one-on-one attention
Les Mills: BodyAttack
Les Mills BodyAttack is the sports-inspired cardio workout for building strength and stamina. This high-energy interval training class combines athletic aerobic movements with strength and stabilization exercises. Dynamic instructors and powerful music motivate everyone towards their fitness goals – from the weekend athlete to the hard-core competitor!
55 minutes
High intensity Sport-Inspired Cardio
Average 735 Calorie Burn!
Improves agility, coordination, strength & endurance, heart & lunk fitness
Les Mills: BodyCombat
Les Mills BodyCombat is the empowering cardio workout where you are totally unleashed. This fiercely energetic program is inspired by martial arts and draws from a wide array of disciplines such as karate, boxing, taekwondo, tai chi and muay thai. Supported by driving music and powerful role model instructors, you strike, punch, kick and kata your way through calories to superior cardio fitness.
55 minutes
High Intensity
Marial Arts Inspired Cardio
Average 737 Calorie Burn!
Tones and shapes, increases strength and endurance, builds self-confidence
Les Mills: BodyPump
Les Mills BodyPump is the original barbell class that shapes, tones and strengthens your entire body. This 60-minute addictive workout challenges all of your major muscle groups by using the best weight-room exercises such as squats, presses, lifts and curls. The key to BODYPUMP™ is THE REP EFFECT™, a breakthrough in fitness training focusing on high repetition movements with low weight loads. This will help you achieve strength and introduce lean body muscle conditioning.
60 minutes
Moderate to High Intensity
Weight-based resistance training
Average 530 Calorie Burn!
Burns calories, tones & sharpens muscle, improves coordination
Les Mills: CXWORX
Les Mills CXWORX provides a short, sharp workout that will inspire you to the next level of fitness, while strengthening and toning your body. Combines the best of personal training with the energy of a group fitness class.
30 minutes
Moderate to High Intensity
Average 230 Calorie Burn!
Tightens and tones core muscles
Improves functional strength for mobility & injury prevention.
Zumba
Are you ready to party yourself into shape? That's exactly what the Zumba program is all about. It's an exhilarating, effective, easy-to-follow, Latin-inspired, calorie-burning dance fitness-party that's moving millions of people toward joy and health.
Learn More!