Parisi Coaching Staff
Parisi Speed School at The EDGE is staffed by some of the best Performance Coaches in New England. On top of successfully completing Parisi's own training certification, each Performance Coach has a unique background in Strength & Conditioning, Sports Medicine and Rehabilitation, Sport-Specific Training, and Coaching Commutation.
Casey Lee
Program Director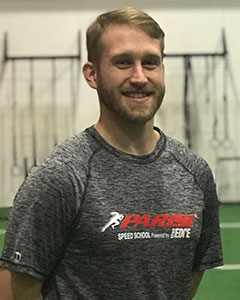 Casey has been with the Parisi Speed School since 2011 and The Edge since 2009. Achieving his Bachelors degree in Business Administration from SUNY Plattsburgh (Plattsburgh, NY), he holds the position as Program Director at The Edge. Using his passion and high energy coaching style, Casey works with a wide variety of kids, adults and teams in the Vermont community. In October of 2014, Casey was awarded Parisi Franchise Coach of the Year, a national award with an applicant pool of 450+ coaches. He has since been working as a Franchise Master Trainer where he travels to Parisi Franchises through out the country to certify new and existing Coaches in the Parisi Training System.
Joe Grunvald
Performance Coach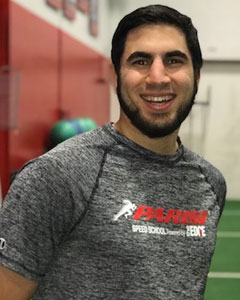 Joey was born in Colchester, Vermont and graduated from High Point University with a BA in Nonprofit Management and Leadership and a Minor in Entrepreneurship. He became a performance coach at Parisi because he has been active all his life, and loves sports and the outdoors and he wants both kids and adults to feel the amazing sensation when completing an intense workout or crossing the finish line of a race just as he does.
His goal is to make a positive impact in each and every kid and adult that he trains by directing them on the path to smart and healthy choices that develop into lifestyles.
Training others combines his two main passions,of helping people and athletics. He is currently certified through the Aerobics and Fitness Association of America along with being Lifeguard/First Aid/CPR/AED certified. He takes particular interest in training distance runners, golfers, and hockey players as he participated in both throughout high school and college. In his free time he likes to play hockey, go to the gym, go golfing, play pool, and spend time with friends and family.
Kyle Rainville
Performance Coach
Kyle graduated from Castleton University with a Bachelor's Degree in Exercise Science. While at school, Kyle worked in a wide range of classes during his studies at Castleton; everything from anatomy and physiology to nutrition and strength training. He was also a member of the Varsity Cross Country team and continues to include distance running with his strength and sprint workouts.  Kyle completed a marathon recently, and is thinking about competing in another soon!  Along with his Bachelor's Degree in Exercise Science, Kyle is a certified Personal Trainer through the Aerobics and Fitness Association of America (AFAA).  He is now a Personal Trainer at The Edge in Williston as well as a Performance Coach for the Parisi Speed School.
Kyle loves to work with individuals of all ages, creating healthy habits and accomplishing goals with children and adults alike.  His specialties include strength and form training for runners, working with seniors, strength and movement mechanics for children, and overall fitness & lifestyle changes for individuals of all ages! 
Shannon Bouvier
Performance Coach, Athletic Trainer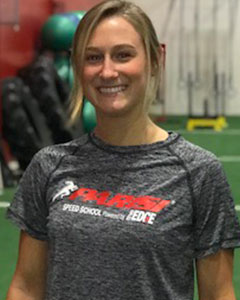 Shannon received her Bachelor's Degree in Athletic Training from the University of Vermont in the spring of 2017. While at UVM she was also an avid member of the Student Athletic Medicine Society, and competed on the Women's Club Lacrosse team. Shannon has experience working at the division one level with UVM Women's Ice Hockey, Swimming & Diving, Field Hockey, Track & Field, and Women's Soccer. She worked closely with the entire Sports Medicine staff as well as the Strength & Conditioning Coaches for these teams and assisted on their training and rehabilitation sessions. She finished her clinical experience working with the Athletic Trainer at Mount Mansfield Union High School as well as local Physical Therapy clinics where she helped administer treatment with an athletic population.
Growing up in Conneticuit, Shannon was a competitive gymnast for 17 years leading up to her freshman year of college. She has coached young athletes ranging from age seven to collegiate as she was the Sport Coordinator at YMCA Camp Woodstock in Connecticut. Her high energy and eagerness to assist young athletes to reach their goals plays an important part of her coaching style. She is excited to help young athletes gain confidence in themselves and their sport on and off the field. She hopes to help implement problem solving skills with the athletes at Parisi and adapt to each individuals style of learning!