Kids in Motion: Yoga
Our Yoga program is structured to develop children's abilities to focus (attention), stand up straight (posture), move their limbs with control (coordination) and grace (flexibility), and find inner strength (self-confidence).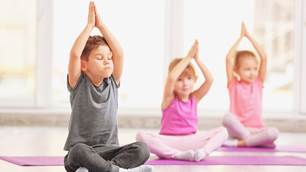 These unique parent and child classes give the chance for families to connect in a different way and to learn from each other. All classes provide a balance between structured and free-flowing age-specific activities. Guided by a certified instructor, programs include age-appropriate poses, games, props, music, and mindfulness and breathing exercises to energize and challenge kids' bodies and minds. All programs conclude with a period of relaxation.
Click here to register!
Winter 2020 Class Schedule
2 – 3 year olds/10:45am – 11:25am/Sunday, March 8th – March 29th
3 – 5 year olds/11:30am – 12:15pm/ Sunday, March 8th – March 29th
5 – 8 year olds/12:20pm – 1:10pm/ Sunday, March 8th – March 29th
Price: member = $112 and Non-member = $124
Please contact Ryan Campagna @ RyanC@edgevt.com for more info!