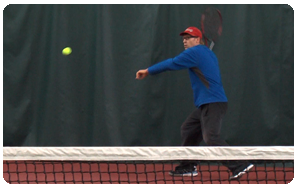 The EDGE Tennis Department is here to help you learn, progress, and maximize your skills to achieve your highest level of play in the lifelong sport of tennis. Our goal is to provide you with the finest opportunities through exciting and challenging programs. Whether you are learning the basics or fine-tuning your game, no matter your skill or age, we have a program that will fit your needs.
The Edge Tennis Department is excited to introduce our new computer software system, CSI. CSI will allow you to register for programs, book court reservations, and purchase lessons, all online through our website, edgevt.com. If you do not have a member login and password, please contact the front desk or your membership representative to get you set up today. No more waiting at the front desk to pay for clinics or junior programs, find out how many lessons you have left in a package and book courts from your computer instead of waiting on the phone. Yes, it is here!
Click here for Program Registration
Click here for Court Reservations
The EDGE has the best tennis facilities in the area, featuring both indoor and outdoor courts at our locations in Essex and South Burlington. We offer private lessons with professional instructors, beginner programs, clinics, junior programs, leagues and tournaments and much more!