Masters Swimming in Williston
Coached Masters swimming is a welcoming group that meets five times a week and is appropriate for fitness swimmers, competitive swimmers, open water enthusiasts, and triathletes. No background in competition necessary.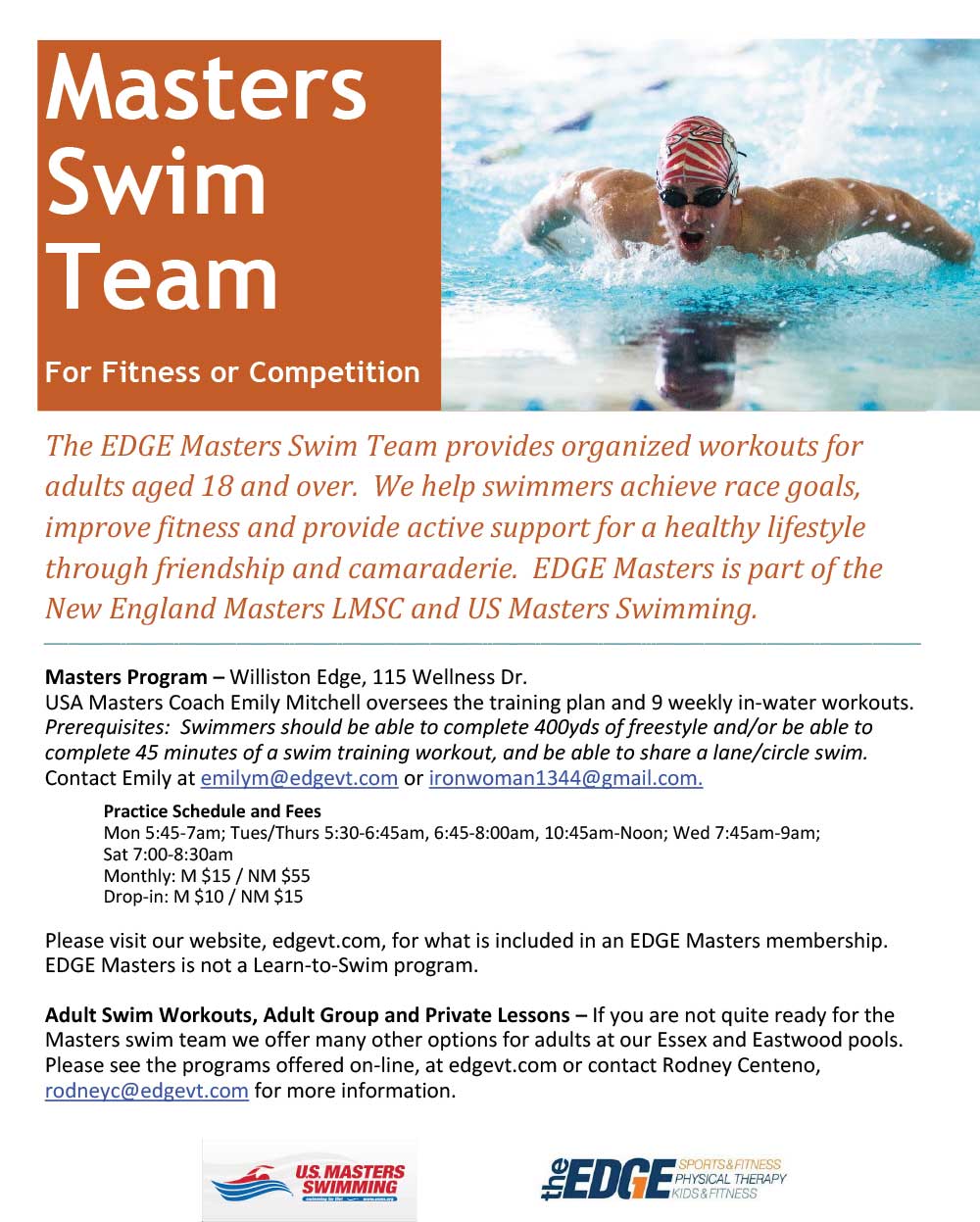 Minimum age is 18.  Most practices have an experience coach on deck to lead workouts and assist with stroke technique.
About the Coach
Emily Mitchell is the Head Masters Swimming Coach which practices at The Edge in Williston*. She is a USA Swimming Certified Level 2 Coach, and maintains her Level 2 VT State Teacher's License. Emily has been swimming since she was 9 years old, participating in USA Swimming Clubs, RI High School Swimming, and was an original member of the Wheaton College Swim Team. Emily joined US Masters Swimming in 1995 and has completed many Triathlons and Duathlons including finishing three FIRM-Man Half Irons and Ironman Lake Placid in 2003. She is an original member of the Williston Masters group and has been Head Coach since August 2016. Emily believes it is never too late to discover the benefits and camaraderie of Masters swimming.
*The Williston EDGE Masters Swim Team is a workout group of the local BASS division of the New England Masters Swim Club.
Annual Masters Swim Meet
Our annual Masters swim meet will be held in conjunction with the Vermont Senior Games. The meet is on Saturday, April 1, 2017. Warm-up starts at noon, meet starts at 1:00pm. Please click here for the registration form.
The Benefits of Master Swimming