Parisi Coaching Staff
Parisi Speed School at The EDGE is staffed by highly qualified personal trainers and coaches that will help the young athlete perform at a higher level.
Casey Lee
Program Director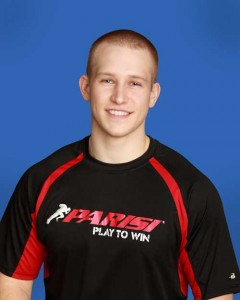 Casey has been with the Parisi Speed School since 2011 and The Edge since 2009. Achieving his Bachelors degree in Business Administration from SUNY Plattsburgh (Plattsburgh, NY), he holds the position as Program Director at The Edge. Using his passion and high energy coaching style, Casey works with a wide variety of kids, adults and teams in the Vermont community. In October of 2014, Casey was awarded Parisi Franchise Coach of the Year, a national award with an applicant pool of 450+ coaches. He has since been working as a Franchise Master Trainer where he travels to Parisi Franchises through out the country to certify new and existing Coaches in the Parisi Training System.
Testimonials
"Training here at the Parsi Speed School in Williston was exactly what I needed to bring my tennis game to the next level.  The trainers are not just helpful, but attack your goals with you.  They're just as passionate about your individual athletic success as anyone. The difference between the way I played at the start of the summer and at the end was astounding.  The Parisi atmosphere was intense, yet fun and made you enjoy the hard work you were putting in. I would recommend Parsi for anyone who is looking to advance to the next level in their sport."
-Evan Greer (Essex '15, NC State '19)
MIchael Porter
Perfomance Coach
Michael received his Bachelors degree in Management from Plymouth State University in New Hampshire and is a Certified Personal Trainer through the National Academy of Sports Medicine (NASM) as well as a Performance Enhancement Specialist through the same organization (NASM).
Prior to his role as Director of the Parisi Speed School, Michael was a Personal Trainer who worked with a wide array of athletes, from the younger child working on the basics of proper technique, coordination & strength and confidence building – to high level athletes looking to take their strength, technique and conditioning to an elite level.
Michael played and excelled at wide array of sports growing up, from team sports, like football, basketball and baseball, to individual sports like ski racing and golf. He contiues to be very active today, as he is an avid skier in the winter and plays golf, soccer and basketball throughout the summer. He also weight trains consistently throughout the year and considers himself a basic nutritionist, as healthy cooking is one of his passions.
He loves to train athletes from any sport and is passionate about teaching kids to establish healthy habits early, which will lead to both short term success in sports as well as long term health and overall well being after their playing careers are over.
Joe Grunvald
Performance Coach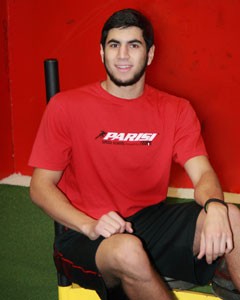 Joey was born in Colchester, Vermont and graduated from High Point University with a BA in Nonprofit Management and Leadership and a Minor in Entrepreneurship. He became a performance coach at Parisi because he has been active all his life, and loves sports and the outdoors and he wants both kids and adults to feel the amazing sensation when completing an intense workout or crossing the finish line of a race just as he does.
His goal is to make a positive impact in each and every kid and adult that he trains by directing them on the path to smart and healthy choices that develop into lifestyles.
Training others combines his two main passions,of helping people and athletics. He is currently certified through the Aerobics and Fitness Association of America along with being Lifeguard/First Aid/CPR/AED certified. He takes particular interest in training distance runners, golfers, and hockey players as he participated in both throughout high school and college. In his free time he likes to play hockey, go to the gym, go golfing, play pool, and spend time with friends and family.
Testimonials
"I would like to tell all that my experience with Joe has been nothing but positive. After a month and a half I have seen noticeable results with my conditioning ( a roll back to 15 years prior levels). I also work with a golf coach in Florida. I visited my golf coach last week and he was very impressed with my increased flexibility, muscle tone and all around body conditioning. As a direct result of the work that Joe and I have been doing my ability to perform has increased. My scores have come down and overall ability to do what it takes to improve has been enhanced.
The golf coach works with high level collegiate and professional athletes and quizzed me on what was being done in the gym with Joe. All of the moves/exercises were right on target. He was impressed with the accuracy of the work. The results have come from Joe and me discussing what is going on with my sport, movement patterns and how to improve.
I highly recommend Joe and his program, you will be pleased with the results and the personal interaction with Joe."
-Adult Personal Training Client- Allen Nassif

"I have been working out with Joe Grunvald for the past two months at the Sports and Fitness Edge in Williston. I have been a member of the Edge since 2008, but had not worked out with a personal trainer in more than fifteen years, when I was living in Boston. Joe and I first discussed my fitness goals, namely wanting to lose about thirty pounds, as well as get in shape. We generally meet twice a week, with one session focused on strength and the other on speed. We are working on incorporating running into my workouts as a way to lose weight and keep the weight off.
Joe is very positive and supportive. I really appreciate that he is an excellent personal trainer. I would highly recommend him to anyone who is looking for a personal trainer to help them achieve their fitness goals."
-Adult Personal Training Client – Jim Brown

"I work with Joe twice a week and it has been a great experience. Joe really wanted to understand my goals and my physical limitations with my knees. He has designed a set of workouts that have not only allowed me to lose almost 30 pounds in two months, but also get my knees better supported for the coming ski season. Joe will explain the correct form of each exercise, and correct my form as the weights have increased. Instead of just going through the motions moving the weight, I am assured that I am doing it correctly so that I can get the most out of every workout. Joe is also helping out with my diet which is still a work in progress, but has been working to exceed my goal of losing 10 pounds a month. Now if I could just teach Joe how to count correctly! Seriously, I want to thank all of the trainers at Parisi for helping me achieve my goals."
-Adult Personal Training Client – Mike VanKoevering

"I've been training with Joey three days a week, for nine months. I've never had a trainer so I didn't know what I was getting myself into, but Joey has exceed my expectations. Joey is very knowledgeable, positive and keeps the workouts fun and engaging. I am pushed and challenged every session and Joey never lets me quit. He doesn't take "no" or "I can't" for an answer and yet is still respectful and positive. Joey keeps in regular contact between sessions to keep me on track and motivated! He is consistently asking about my goals and develops a plan to help me achieve them.
Joey is a great guy and an amazing trainer!"
-Adult Personal Training Client – Rachel Gage

"My workouts at the EDGE became routine but unfortunately were not having much impact. I needed to gain some weight and strength but my workouts with the machines had little results. I was discouraged.That is when I decided to work with a trainer. Fortunately, Joe Grunvald became my trainer and coach. This was a big step for me and a new experience which brought results. Coach Joe's patience, confidence and good sense of humor immediately gave me the support I needed.
We began working with weights. Weekly and steadily the weights were increased and the exercises became slowly more challenging. My confidence grew steadily and the enjoyment of working with Coach Joe was certainly rewarding. Since my loss of weight was a concern, he regularly inquired about my diet and made 'smoothies' an important daily supplement. The mid-morning and afternoon snacks he suggested became a new healthy routine along with long walks every day. He was persistent with his questions to insure that I was eating better and exercising more each day. Coach Joe made a big difference in improving my health, my weight, my strength and my confidence. All-important attributes for a 77 year old woman."
-Adult Personal Training Client- Margaret Ross
I am writing on behalf of Joey Grunvald regarding his excellence as a personal trainer. I have been working with Joey for six months, and doing so has been one of the best decisions I've made. Joey is very professional in his conduct, and is very knowledgeable in nutrition, exercise and in healthy living in general. As a trainer, Joey is very patient and takes the time to explain not only how to properly do an exercise, but also why that exercise is effective and how it engages certain muscles. This knowledge combined with his ability to clearly convey it has provided me with progress physically and mentally, as my knowledge has increased as well as my strength. I have an extremely busy schedule and Joey has gone out of his way to accommodate that on several occasions.
Previous to working with Joey, I was never much of an athlete, and hated going to the gym. I had very limited knowledge about exercise and always felt outclassed or foolish trying to work out. I have also suffered from Delayed Sleep Phase Syndrome for most of my life, which amounts to basically permanent jet lag. I have rarely been able to fall asleep before 3-4am and would wake up around noon naturally, regardless of most factors. Since working with Joey, the combination of exercise and nutrition education has helped me sleep significantly better, which has been a life long challenge for me. Now I am able to fall asleep closer to 1-2am, allowing me to feel less stressed, and more alert. This has made a huge positive impact in my day-to-day life. Since working with Joey, I feel more confident, have increased my strength and stamina, have learned healthy eating habits, proper exercise techniques, get longer and more restful sleep, and now I actually look forward to getting in a workout.
To any individual considering working with a personal trainer, I would highly recommend Joey.
Best regards,
John R. Doyon
Joe is the best trainer I've ever had. He is patient, knowledgeable, and creative in the way he develops and runs his training sessions. He listened to my goals, and assessed my strengths and weaknesses to create a program that was not only effective but varied and fun. Every few weeks he'd mix up the routine and throw another exercise into the session to keep it fresh and relevant. I was thrilled with the progress I made, not only in strength and stamina, but in the general performance of the activities I was training for. He was easy to talk to, energetic, and always willing to explain in detail the reasoning behind each exercise and how it would help me achieve my goals. I highly recommend Joe no matter what your starting level is, as he'll challenge you, keep you injury free, and make you better at whatever activity or sport you play! 
-Christopher Triolo.
After a couple of weeks I was contacted by one of the trainers (which is part of the services) for a free consult to see if I was interested in signing up for personal training. I did sign up! Every Thursday night for 3 months I met with my personal trainer. His name is Joe Grunvald. He asked me about what I was hoping to accomplish with training etc. I explained that I had not done anything like this in about 40 years. He said it was no problem, we would work on this. We did!!!
I am totally amazed at what I have accomplished with Joe's help. I would not have believed it possible at my age To transform my body the way that I have. I have lost 17 pounds and numerous inches!! Very exciting. Joe's understanding and patience to work with me have been wonderful. He is kind, courteous, professional and a very Caring person. He is also incredibly knowledgeable. I feel the best I have felt in a very long time. Not only do I feel and look better, but I sleep better as well. I look forward to going to the gym each night. I was so impressed with my results that I signed up for another 3 months!!!
-Kathy Durett
Working out with Joe Grunvald has made all the difference in my running, not to mention all of my activities. Joe has taught me how to use my body effectively and efficiently. I am in my 60's, very active, but a slow runner. Joe has helped me run faster, for longer, feeling strong and so much more graceful than I ever had before. I love that each week he creates a session specifically for me, nothing cookie cutter about it. Joe challenges and encourages and celebrates each accomplishment. He makes me feel like a rock star! And, when it comes to trainers, Joe is definitely a rock star!
-Joy Livingston
I want to thank Joe for the recent sprint training sessions. I felt that the format was very professional and that you were well prepared. Being a masters athlete, I appreciated your attention to injury avoidance. I have come away with a much better understanding of the in depth biomechanics involved in sprinting. I have enjoyed the training and will use my new knowledge to further my athletic endeavors.
-Craig Tougas
Joe Grunvald has been my personal trainer for the last eight months, at first, one time a week. I then increased it to two times a week as I had a steady improvement in my fitness and I wanted to do more. My goals have been to build strength to continue my lifelong love of outdoor activities including skiing, hiking, and bicycling, to name a few.
Joe has built a personal program for me, the he continue to adapt by adding weight and new exercises. He is very knowledgeable and professional. He makes sure exercises are done correctly for proper muscle targeting and safely. He is extremely patient, demonstrates the exercises as often as I need, and instills the confidence in me that I can continue to become stronger.
I was climbing the steep hills around my childhood town with my 10 year old active grandson. He had to keep up! I couldn't have done those hills a year ago. I highly recommend Joe and personal training and hope too continue with it.
-Sarah Aiken
In the past couple of years, I've been very passionate about weight training. There came a point where I hit a very frustrating plateau and stopped being able to increase the weight on each of my lifts. Joe helped me to realize that my form was the root of the problem and helped me change my mindset of only worrying about how much I was able to lift. Now, I have more of a healthy focus on form and speed of movement and on different ways to push myself. During our months working together, Joe has made my workouts intense and exciting and has always been attentive to switching out exercises I'm not fond of for ones that achieve the same results. He's helped me learn so much about how to structure my workouts on my own and to keep my progress sustainable. Overall, Joe is very caring and attentive to what each client needs, what their limits are, and how far he can push them.
-Amy McGann
Lauren Greer

Performance Coach
Lauren believes that great things are achieved when our mind, body, and actions are in harmony. Coaching people in making positive, sustainable lifestyle choices is just as important to her as teaching someone how to properly deadlift or change direction efficiently on the playing field.
Lauren graduated from the University of Connecticut with a Bachelor's in Psychology. She then pursued a Master of Social Work degree. While working for a non-profit organization as a Child and Family Therapist, Lauren realized that she was skilled in working with people. Soon she came to understand that she would be far more effective and motivating if she merged her love of helping people with her long time passion for health and fitness. Lauren returned to school; achieved her personal training certification through the National Strength and Conditioning Association (NSCA), and used her knowledge and talents as a fitness coach in Manhattan for several years. She brings to Parisi powered by The Edge invaluable experience and a passion for helping our youth and their families lead healthy, happy, active lifestyles.
In addition to being a Parisi Sports Performance Coach, Lauren is also certified in:
Kettlebell Athletics
Dynamic Variable Resistance Training
Pre-Post Natal
If you don't find her training at Parisi, she's either keeping up with her very active toddler, exploring the great outdoors with her family, or studying for her Precision Nutrition Certification.
Kyle Rainville
Picture Coming Soon
Kyle graduated from Castleton University with a Bachelor's Degree in Exercise Science. While at school, Kyle worked in a wide range of classes during his studies at Castleton; everything from anatomy and physiology to nutrition and strength training. He was also a member of the Varsity Cross Country team and continues to include distance running with his strength and sprint workouts.  Kyle completed a marathon recently, and is thinking about competing in another soon!  Along with his Bachelor's Degree in Exercise Science, Kyle is a certified Personal Trainer through the Aerobics and Fitness Association of America (AFAA).  He is now a Personal Trainer at The Edge in Williston as well as a Performance Coach for the Parisi Speed School.
Kyle loves to work with individuals of all ages, creating healthy habits and accomplishing goals with children and adults alike.  His specialties include strength and form training for runners, working with seniors, strength and movement mechanics for children, and overall fitness & lifestyle changes for individuals of all ages! 
Shannon Bouvier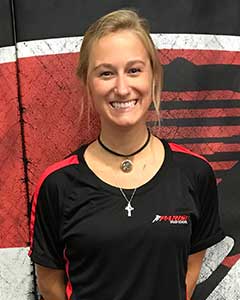 Shannon received her Bachelor's Degree in Athletic Training from the University of Vermont in the spring of 2017. While at UVM she was also an avid member of the Student Athletic Medicine Society, and competed on the Women's Club Lacrosse team. Shannon has experience working at the division one level with UVM Women's Ice Hockey, Swimming & Diving, Field Hockey, Track & Field, and Women's Soccer. She worked closely with the entire Sports Medicine staff as well as the Strength & Conditioning Coaches for these teams and assisted on their training and rehabilitation sessions. She finished her clinical experience working with the Athletic Trainer at Mount Mansfield Union High School as well as local Physical Therapy clinics where she helped administer treatment with an athletic population.
Growing up in Conneticuit, Shannon was a competitive gymnast for 17 years leading up to her freshman year of college. She has coached young athletes ranging from age seven to collegiate as she was the Sport Coordinator at YMCA Camp Woodstock in Connecticut. Her high energy and eagerness to assist young athletes to reach their goals plays an important part of her coaching style. She is excited to help young athletes gain confidence in themselves and their sport on and off the field. She hopes to help implement problem solving skills with the athletes at Parisi and adapt to each individuals style of learning!