Parisi Speed School Powered by The EDGE
Welcome to the Parisi Speed School powered by The EDGE! With over 90 locations nationwide, the Parisi Speed School is recognized as the country's premiere athletic performance enhancement organization for training youth and adolscent athletes. Using techniques that have produced first round draft picks in every major sport as well as Olympic medalists, our specially trained Performance Coaches deliver a positive training experience that improves speed, agility, and strength, as well as character.
Whether training individual athletes or entire teams, athletes see clear results in performance and self-confidence from our programs.
To Get Started
At the Parisi Speed School we start every individual with an initial athlete evaluation. During this time we assess the individuals strengths, weakness, injury history, and set goals as they enter our program. While the athlete is going through their evaluation, the parent/guardian will have the opportunity to go through a parent orientation. During the orientation the parent/guardian will learn about our program history, our training and membership offerings, as well as have any question(s) answered. This gives everyone the chance to experience Parisi first hand and allows us to make a training recommendation as you enter our program.
Signing up for your Initial Evaluation:
We run FREE Athlete Evaluations & Parent Orientations every Monday night from 5-6pm.  We ask that families and/or individuals register in advance for their evaluation/orientation by contacting Program Director Casey Lee at CaseyL@EdgeVT.com. You can also register by calling the Parisi Speed School directly at 802-488-FAST (3278) and anyone who answers will be able to get you set up for your free initial evaluation! 
*Note: Private evaluations are available by appointment for $50*
If you have any additional questions about our service offerings here at Parisi, please contact Program Director Casey Lee at CaseyL@edgevt.com  or call the facility directly at 802-488-FAST(3278).
Download our Parisi Inquiry and Waiver Form here!
Meet the Parisi Coaching Staff
Schedule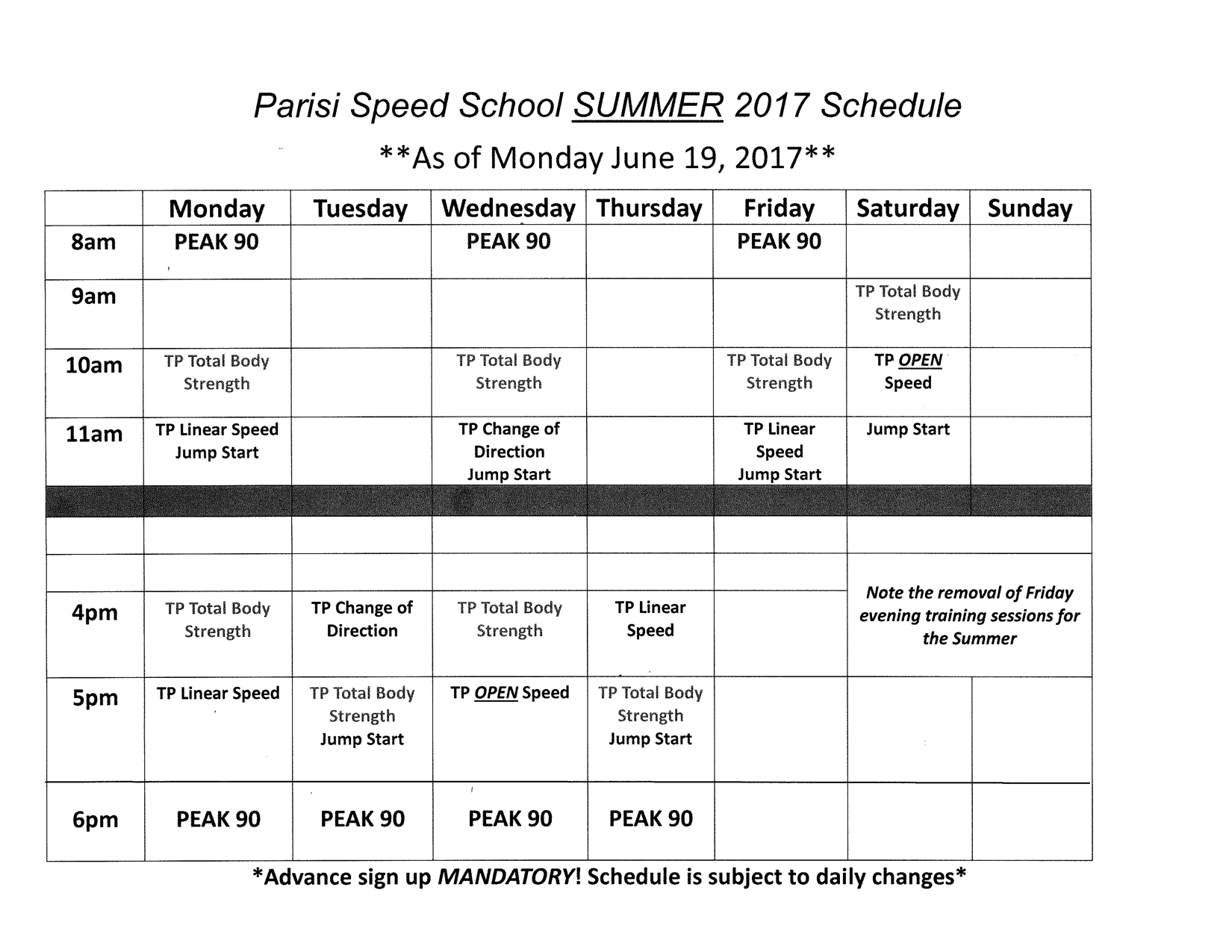 Video
Check out our latest video on Parisi Speed School: