Kids in Motion powered by the EDGE
developed by Ryan Campagna, Director of Camp EDGE
Kids in Motion is about growing and having fun in a non-competitive and educational environment. Our programs are great for any child aged two through eight and include soccer, lacrosse and creative movement. The programs use a fun and engaging approach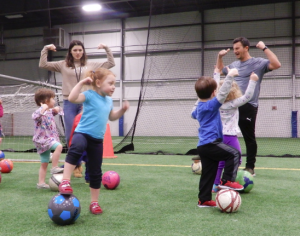 that encourages skill development and focus on simplifying the games. Our goal is to help each child to develop gross motor skills, socialization skills and self-confidence and to feel success in every class that they attend.
Our curriculum uses positive reinforcement and age appropriate activities to guarantee each child is having fun and is always looking forward to coming back. Each class focuses on one new skill topic, such as dribbling with different parts of the foot or change of direction. Objectives for this new skill are introduced early and often to ensure that all the children are mastering the skill of the day. In conjunction with children experiencing success and gaining confidence, it is our aim for each child to continually develop these new skills throughout the session.
Upcoming Porgrams
We are very excited to announce our Fall 2018 programming for Kids In Motion for children ages 2 – 8! In addition to our Kids In Motion: Soccer session, we are offering Kids In Motion Extended weekday classes. These classes will be just over two hours in length during the after school times and will feature Soccer and Lacrosse for school aged kiddos 5-8. The session will focus on skill development, scrimmages and fun-based games and will also allow time for a snack. To accommodate the early dismissal in Williston, the extended class will begin at 2:15p on Tuesdays. There is a school bus that travels from Williston Central School to the EDGE that could make the transition from school to our program super easy! Below you will find details and schedules.
Registration is now open online & at the Front Desks by calling 802.864.8044.
Fall Details:
Sessions are 9 weeks (9 total classes).
Kids in Motion: Soccer
Pricing: EDGE Members – $250   ~ Non-members – $300
Choose a Saturday class OR Tuesday class.
Date: Saturdays, September 15th – November 17th (no class day on Oct 13)
2-3yr olds = 9:00am – 9:40am
3.5yrs-4yr olds = 9:45am – 10:30am
2-3yr olds = 10:35am – 11:15am
4.5-5yr olds = 11:20am – 12:10pm
Dates: Tuesdays, September 18th – November 13th
2-3yr olds = 9:15am – 9:55am
Kids in Motion Extended: Soccer
Pricing: EDGE Members – $400   ~ Non-members – $480
Choose the Tuesday class OR Wednesday class.
Dates: Tuesdays, September 18th – November 13th
5-8yr olds = 2:15pm – 4:30pm
Dates: Wednesdays, September 19th –November 14th
5-8yr olds = 3:15pm – 5:30pm
Kids in Motion Extended: Lacrosse
Pricing: EDGE Members – $400   ~ Non-members – $480
Dates: Thursdays, September 20th – November 15th
Boys 5-8yr olds = 3:15pm – 5:30pm
Girls 5-8yr olds = 3:15pm – 5:30pm
Program Principles
The EDGE Environment
Building Positive Relationships
Individual Skill Development
The EDGE Environment
Our coaches and staff create a fun and non-competitive environment for all children, no matter their current skill level. During each session, the coach will take the time to understand how the children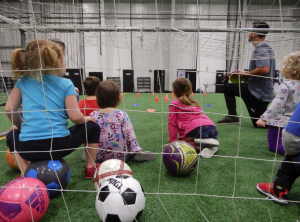 differ physically and cognitively to ensure that each one is learning at their own speed. In this positive environment, each player should feel part of the group and be able to achieve success throughout the class and session.
Building Positive Relationships
We want all children to enjoy the sport or activity they are playing. Our coaches are enthusiastic, expressive and energetic and understand that communication is key in building a positive relationship with each child. Coaches use age appropriate language and positive reinforcement and always infuse fun while coaching.
Individual Skill Development
In each class, age appropriate curriculum is presented and designed to help the children develop a strong skill set. Each skill will be introduced in a friendly and simple way so that players, regardless of age and ability, can understand and perform. In all programs, a progressively instructional approach will always be implemented. Each coach experiences several practical trainings to ensure they are comfortable working with this dynamic age group.
Phases (age groups)
Early Childhood: Motor Development (2-3yrs)
In this phase, the coach will focus on gross motor skills such as running, jumping and kicking. Each class will have a theme shown through a large picture card to help keep each child engaged. The theme will also help connect the players to the skills. The coach will use imagery as a tool to help each player become more familiar with the different equipment, their peers and the coach. The skills introduced in this phase will focus on mobility, body awareness and coordination which improves balance and stability.
FUNdamentals: Cognitive and Skill focused (3-5yrs)
For this phase, we will continue to work on focuses from early childhood and also incorporate cognitive and skills activities. Coaches will guide players through dynamic activities and dramatic play to develop motor skills and also sport-specific skills. Each class will include partner activities to promote sharing, listening, respect and cooperation. Physical activities will include energetic movements like running, skipping and jumping.
Learning the Game: Skill and Technique (5-7yrs)
In this phase, the focus will be on teaching the game and proper technique that each player needs to be success in playing sports. When teaching soccer or lacrosse, our aim is to improve children's elementary capacity through fun games, technical development and group activities. Focusing on proper technique creates good habits, muscle memory and appropriate instincts in preparation for game-related situations. In this phase, each child's attention will be guided through rhythmic movement, physical and socialization exercises while using highly adaptable lesson plans and age-appropriate terminology to fit the needs of the specific class.
Sample Class Structure:
Intro: Theme and Skill of the day
Warm-Up
Stretches
Skill Activity #1
Skill Activity #2
Big Game
Recap/Sign-out