Camp EDGE and Vacation Camp
Full Day Programs
Daily Hours: 7:45am-5:30pm
Ages: Kindergarten – 5th Grade (5-12 years old)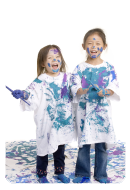 Camp EDGE is about having fun, being active and giving back. Campers will experience exciting EDGE offerings including tennis, swimming, Obstacle Course Racing, yoga, Parisi Speed School, and more! Campers will also enjoy crafts and artistic specials throughout the summer. In addition to these awesome activities, each week will have a fun theme and will culminate in an event that will have a positive effect on the community. Ours is a state licensed, STARS accredited, weekly day camp for ages 5-12, offered to both members and non-members. The non-member tuition includes a one-week Active EDGE Family membership!
We also offer Vacation Camp for kids during winter and spring recesses during the school year. Our Vacation Camp provides a fun filled day of activities to keep your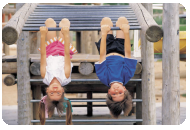 child engaged and active. Vacation Camps are offered on days that schools have planned days off or school vacations. Anyone from any school district can attend. It's a great time for children to re-connect with some of their old friends that go to other school districts!
Download the Summer Camp 2018 Registration Form
Download the Vacation Camp Application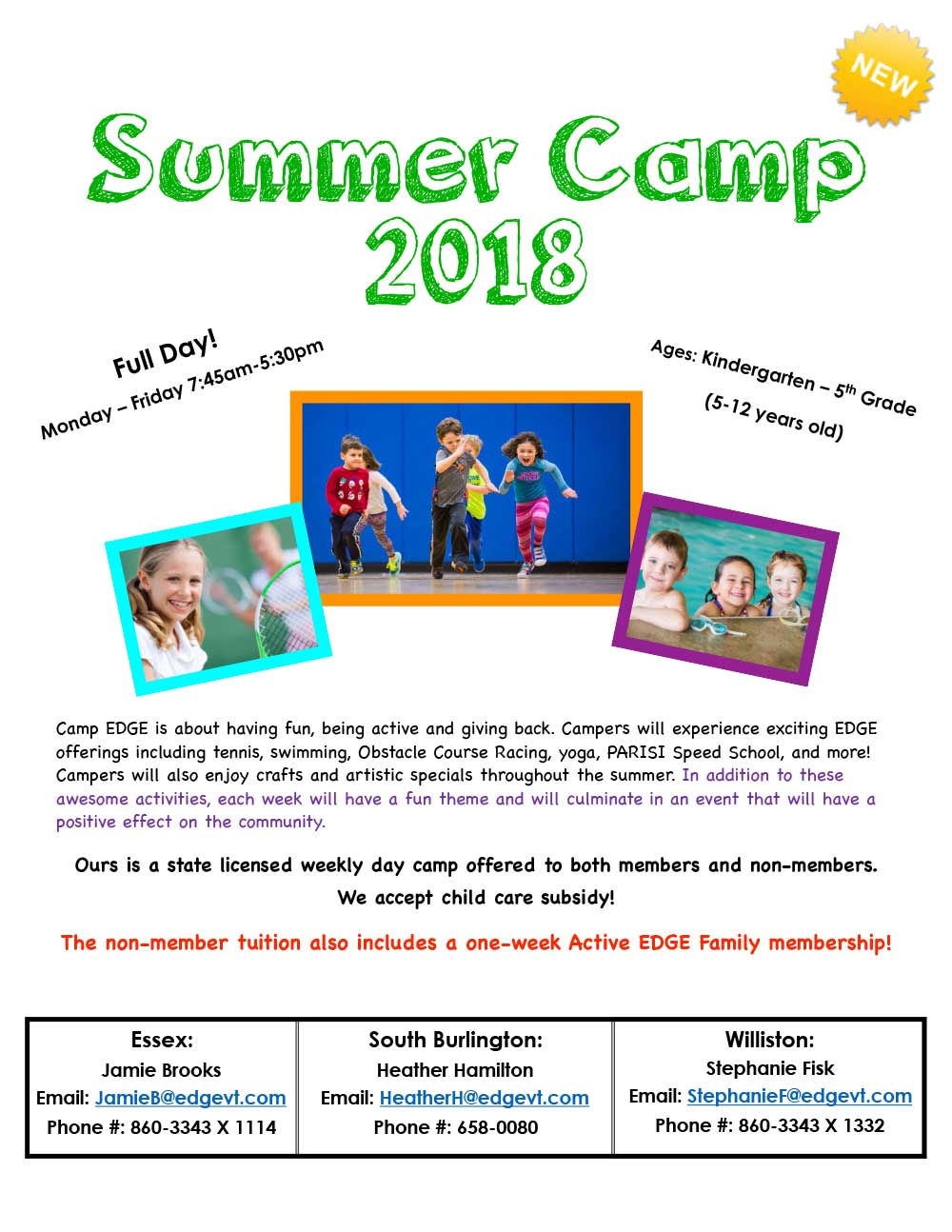 Camp EDGE Tuition Rates
| | | | | |
| --- | --- | --- | --- | --- |
| Wk 1, 2, 4-9 | EDGE Member | $248 | Non-Member* | $260 |
| Wk 3 (7/2-7/6) | EDGE Member | $200 | Non-Member* | $212 |
| Wk 10 | EDGE Member | $268 | Non-Member* | $280 |
*The non-member tuition includes a one-week Active EDGE Family Membership!
EDGE Camp Weekly Themes

Week 10: EDGE World Tour (Aug 20 – 24) is a special, new offering this year. The week will be organized and run by department professionals in tennis, aquatics, nutrition and fitness and will take place at multiple locations. Campers will learn and explore these programs and experience the EDGE in a whole new way. Monday will be held at our South Burlington location at W. Twin Oaks Terrace, Tuesday and Thursday will be held at our Williston location, and Wednesday and Friday will be at our Essex location. We will get finalized details of the schedule to registrants as we get closer to camp.
For more information contact camps@edgevt.com.
Activities
Below is a list of just some of the many activities we've designed for your child:
Arts & Crafts
Reading
Team Building
Nature & Wilderness Exploration
Swimming (indoor & outdoor)
Recreational Games (indoor & outdoor)
Community Outreach
Cooking
Tennis Instruction
Zumba
Group Sports (including, but not limited to, baseball, soccer, floor hockey, basketball & kickball)
Parisi Speed School
Obstacle Course Racing
Yoga
Skill Building
Through a summer camp experience at Kids & Fitness your child will gain:
Decision-making skills
Conflict resolution skills
Athletic skills; Teamwork
Self-respect and Self-esteem
Responsibility
Creativity
Leadership
Friendship
Our Staff
EDGE Counselors are energetic, creative and enthusiastic. Our counselors all have previous experience working with children and have an educational background. All staff are CPR, AED and First Aid certified!